Since 1987
King Wholesale Inc. A family operated business. King Wholesale Pet Supplies strives to provide education and products that support the proper care and maintenance of all animals. As a business we want to maintain good relationships with our customers, provide accurate and timely service, and be committed to providing a safe and quality product. The goal of King Wholesale Pet Supplies is to provide retailers a friendly source for the products they want to provide their customers. We develop solid, long lasting relationships built on honesty, integrity and trust, with our retailers and vendors who share our commitment to offering quality products and services to the consumer.
King Wholesale Pet Supplies offers a consistent line of quality brand name products at reasonable prices while supplementing its product mix with many exciting, limited availability closeout items. By carefully balancing quality and value, King Wholesale Pet Supplies helps the retail customers capture the end consumer on the initial sale and keep them coming back again and again.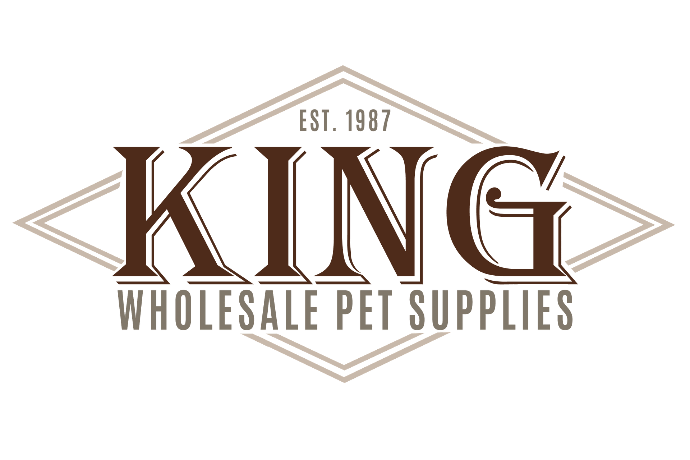 King Wholesale Pet Supplies Catalog
founded in 1987 by the Dynamic late Valerie MacMillan as a 24 page mail order catalog servicing groomers and animal hospitals nationwide. Today King Wholesales successful customers include retail stores, grooming shops, animal hospitals, kennels, trainers, humane societies, as well as other pet care professionals within the US and abroad via its 168 page catalog and online.
Online purchases
King Wholesale Pet Supplies offers secure online ordering through our website 24-hours a day, seven days a week, from any location. All information pertaining to transactions are handled confidentiality to ensure your secure transaction. KingWholesale.com is a Trusted Site, Network Solutions, Chase Paymentech and Authorize.net verified online wholesaler.
Check After the Sale
After an order is recorded, it's checked and assessed for fraud risk. Risk sales are flagged and held pending a real live person to ensure the sale is valid. Once we have your confirmation and the information is verified, the flagged order is released and resumed.
Customer service
At King Wholesale Pet Supplies, customer care is our top priority. Our experienced, knowledgeable staff is ready to serve your needs, Monday through Friday, 8 a.m. to 4:30 p.m., PST (California) by calling (800) 825-4647 or (888) 554-King (5464).
We take great pride to ensure your questions and concerns are always addressed, and every order is processed to meet your expectations and satisfaction.
Continental U.S. Orders
King Wholesale pet supplies keeps low minimums in our policies allowing businesses to keep their shelf space stocked, carring lines from over 200 manufacturers to make those minimums easy to reach. Our pricing is simple… One low price, all the time. As a distributor we strive to have the most accurate and timely deliveries, competitive prices, and the most friendly and helpful staff. While working to be the best, we don't forget that good business starts with good human relations, and the unwavering foundation of our company to allow our customers to provide the best they can for the critters and customers in their care.
International Orders
We sell products internationally, and impose a reasonable minimum order requirement on all international customers. Please submit any questions to our customer service desk.
Payment Methods
We gladly accept Visa, MasterCard, Discover and American Express, as well as most bank debit cards.
While every effort is made to prevent typographical errors, we are not responsible for errors and/or omissions. which may appear on this web site or within email correspondence. We reserve the right to correct, adjust, alter, update or remove any matter on this web site without notice. Please contact us if you happen to run across any typographical errors or incomplete content, we appreciate your assistance with making our web site the best that it can be.